The idea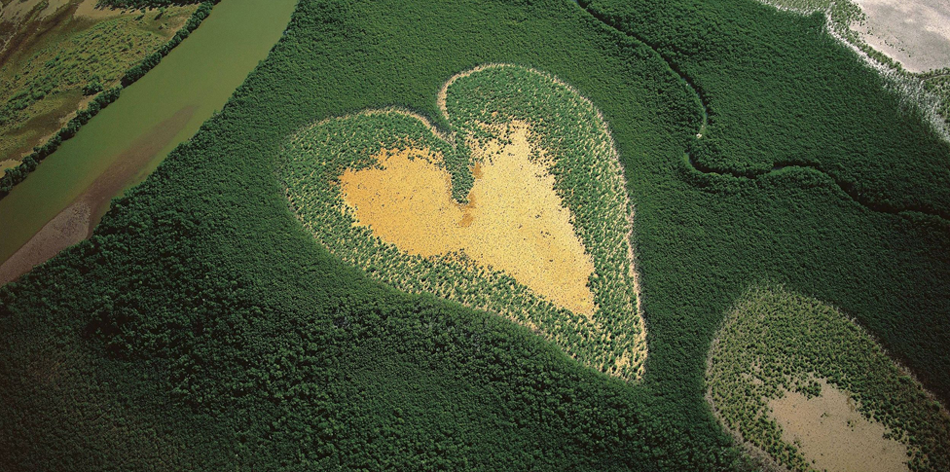 A heart meeting
The idea came from the meeting of two passionate. Yann ARTHUS-BERTRAND world famous renowned photographer and Bertrand GARDEL, photographer and director of the photographic agency HEMIS (www.hemis.fr).
Hemis is a specialized agency for travel and wildlife photography for professional in Editorial Press (Geo, Figaro Magazine, Paris Match, Le Point, ....) and Book publishing (Guide Hachette, Gallimard. ... calendar publishers and postcards).

The philosophy of the two men is the same: to provide beautiful pictures certified and signed by its author to make it an exceptional product.
The choice is unique images or wellknown in order to discover the richness of the work of the photographer.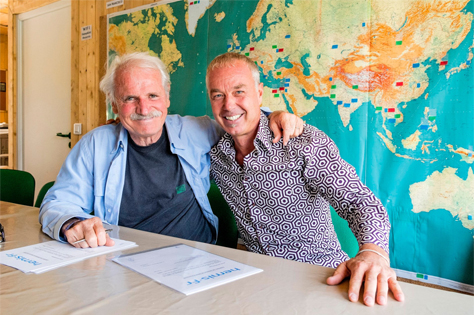 L'Atelier: a unique place to live,
the hideout of Yann
All prints are exclusively made in partnership with Yann workshop, located in the heart of Paris.
It is a long-standing desire of Yann Arthus-Bertrand to create this friendly place, open to all, allowing everyone to discover his way to work, to better understand what is happening behind each of his photos and meet its team.

So this place is not just a gallery but a place of life; the studio of a photographer.
The large central table gathers us around the heart of the manufacturing process: photo processing and printing.
The presence of the machines in the main space is voluntarily assumed. This place is the opportunity to discover all the people working with Yann ARTHUS-BERTRAND and share with them.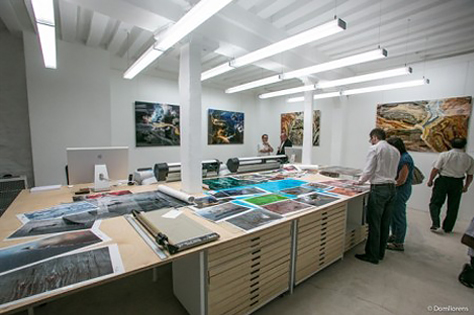 Around this table pictures are exhibited. Other photos and books are also available for consultation, allowing a glimpse of the overall work of Yann ARTHUS-BERTRAND: Earth from above, cattle, horses, tarmac, and now the photos of his last movie : Human.
All prints are signed and checked by Yann ARTHUS-BERTRAND himself. This is an assumed artistic approach allowing Yann to share his work more widely.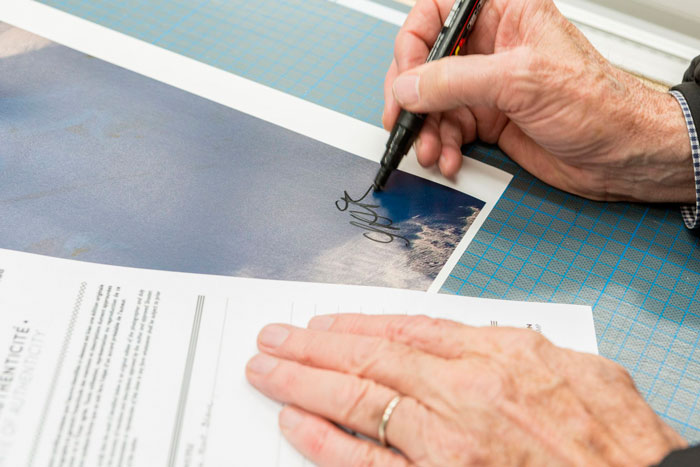 Manufacturing:
Requirement 
and the French Expertise
The Print
Through its quality requirements, Yann rely on his chromiste Erwan Sourget, digital prints (pigment prints) using a new printer Ink-jet Canon IPF9400.
They are made on barium satin paper.
Each print is individually controlled by Yann which validates it.
The Framing: protecting your draw.
Directed by a French company located in Paris. It is the knowledge of several generations of framer working for major national and international exhibitions.
The plexiglass is very pure and anti-UV treated, controlled original wooden framing.
The quality of your framing is major for along life of your photo.
Poor quality, the pigments of the forward draw can change color, fade and lose all your work radiant.

Delivery : "Yann is often in a helicopter or in a conference" but he will sign…
Depending on the schedule of Yann, the average time is three weeks from receipt of your order and delivery in mainland France.
The prints are checked and signed personally by Yann Arthus-Bertrand, with a certificate of authenticity signed and dated by the photographer.