The idea
A heart meeting
The idea came from the meeting of two passionate. Yann ARTHUS-BERTRAND world famous renowned photographer and Bertrand GARDEL, photographer and director of the photographic agency HEMIS (www.hemis.fr).
Hemis is a specialized agency for travel and wildlife photography for professional in Editorial Press (Geo, Figaro Magazine, Paris Match, Le Point, ....) and Book publishing (Guide Hachette, Gallimard. ... calendar publishers and postcards).

The philosophy of the two men is the same: to provide beautiful pictures certified and signed by its author to make it an exceptional product.
The choice is unique images or wellknown in order to discover the richness of the work of the photographer.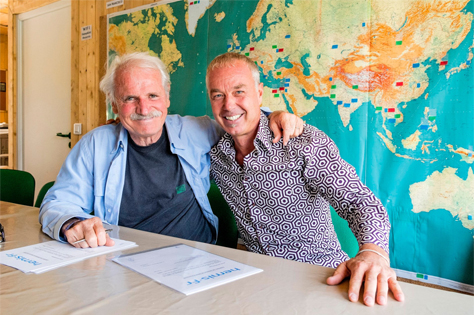 For 65 years Picto is a reference for image professionals. Photographic laboratory founded in 1950 by Pierre Gassmann, a humanist personality and a friend of the great photographers of his time, Picto is a specialist in the graphic chain, combining craftsmanship and new technologies.

The lab accompanies photographers, museums, institutions and galleries for the drawings of their exhibitions, brings to the actors of the advertising and luxury industry its know-how of retouching and visual communication, and offers online access to its Qualitative services with Picto Online. Picto has become the leading photographic laboratory in its sector in France and now opens up to the international market with an office in New York which initially concentrates its activity on Luxury, Fashion and Beauty advertisers .

Picto Foundation is the latest initiative of a company committed to image. It supports photographers with the support of prizes, festivals and the sharing of its know-how with schools of photography and visual art.

                                                              
THE OPTIMIZED THERMAL SUBLIMATION FOR PHOTOGRAPHIC DRAWING.

Dye sublimation is a process developed for several decades, used especially in the textile industry, and also implemented in some photo printers. Thanks to recent research and development efforts, this technique is finally compatible with the very high requirements imposed by high-quality photographic reproduction on rigid, highly resistant substrates such as aluminum or MDF panels. The Subligraphie® certification now guarantees faithful colorimetry, perfect reproducibility from print to print, and unmatched durability. For the first time perhaps in the world of photographic reproduction, Subligraphie® guarantees both a very high image definition, a wide range of vibrant colors, unprecedented effects of matter and depth, and Exceptional resistance to aggressions.

                                                                           
                                                         Manufacturing :  the French Expertise